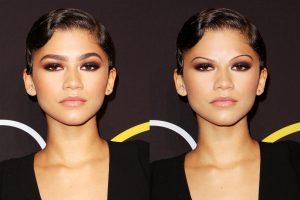 Photos from: www.elle.com
Are you a victim of the 90s brows? Does it seem like no matter how many growth serums you use your brows still won't grow in? If this sounds like you then you have probably considered Microblading before. But what exactly is Microblading and are you a good candidate for it? We will break down exactly what it is and everything you need to know about Microblading.
Microblading (also known as eyebrow embroidery or feathering) is the finest form of eyebrow tattooing done by using a disposable pen-like device with a microblade attached to stroke very thin lines of pigment into the skin. Done by hand, these thin lines flow in the same direction as your own hairs and create very natural hair-like results.
4 Reasons Why You Should Consider Microblading:
1. It Can Correct Over-Plucked Brows
Okay let's admit it, we all went through the 90s brow phase but the new brow trend is fluffy Kardashian like brows. Apparently, our brows didn't get the memo and there still stuck in the 90s. When you get Microblading done you walk in and within a few hours you walk out with beautiful, full natural-looking brows for life! Which brings us to our next point…
2. It Saves TIME + MONEY!

Microblading enhances your natural brows giving them that perfectly fluffy brow look right away! You can now sleep in an extra 10-15 minutes as you won't have to apply your brow makeup every morning and have the dreadful struggle of making them look like sisters and not long lost cousins. Another plus is you will be saving at least $50 each month as you won't need to buy brow pencils, gels, tints, brushes and all the other brow products you once used.
3. Long-Lasting Results

We all know how frustrating it is to spend a lot of money on a procedure and have to go back to the salon every few weeks for touchups. One of the many awesome things about Microblading is it lasts 1-3 years and touchups are different for every client. Some may need a touchup at the 3-month mark and be good for 3 years and other will need a touch up every year or so but with the proper aftercare and lifestyle, you will have beautiful brows for years with no maintenance.
4. It Can Fill In Awkward Gaps In Your Brows

Do you have full, fluffy brows but you have one spot that has a weird gap? Microblading can naturally fill in those awkward gaps making your brows look full and perfect with only a few hair strokes.
Ready to give Microblading a try? Angela Lin is a 12x certified brow expert and she's ready to give you back your brow confidence! Click here to book a brow appointment with Angela. If you have any further questions you can email her at [email protected]
Follow us on Instagram @artistryofangelalin and @studioartisphere 💕